Changing Times
How should you use the internet in your career pursuits?
Years ago when I first became a member of the Screen Actors Guild it was common for actors and musicians to refuse to perform without a paying contract. Now, I would consider it very practical to use high tech video photography and editing to do your own self promotion.
Some people will not use the internet in any way to promote themselves or their acting or entertaining talents. There are some people who are not aware of the internet's potential as an entertainment medium. Some people already have all the entertainment activity they can handle and are busy enough they will not use the internet, even if they happen to be very good with computer technology.
If you are just beginning your career you will be investing in pictures and resumes and business cards plus wardrobe and phone answering machines. You do not charge the photographer to take your picture. You do not require people to pay to listen to your recorded voice on your answering machine. Some people will tell you never to give away your talents by doing videos on the internet. They think you should perform only when there is a contract with pay for your services. I will tell you to promote yourself anyway you can in today's world. I definitely do videos for free on the internet. I have built a base of support with fans in countries around the world.
You will make the decision of whether it is in your best interest to have some videos at YouTube or on your own site or elsewhere. I think of my YouTube videos as being a business card and a billboard for which I don't have to pay a monthly fee. I am able to do short videos for which I pay no bandwidth. Soime of my videos have been viewed more than 100,000 times. I am able to establish my comedic and musical skills for anyone who might be looking for my particular brand of humor or singing. I do my own songs and public domain songs which means I am using material for which I need no special permission.
If you decide to become serious about YouTube you might become a partner. Partners can make income from their videos.
E-Mails, My Hollywood Star
Any e-mails for the webmaster can be sent to this e-mail address.
Hollywood Screams (Hollywood Horror)
Fairfax, Hollywood's "Other" High School
More Links
The most important person... The Fan
Promote Yourself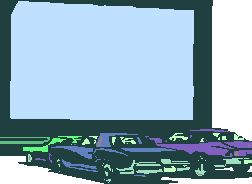 Hollywood Screams, horror movie site
Internet Video
If you decide to use YouTube or your own website to post a video of yourself, you will need a camcorder and a computer plus some video editing software. Some of the video editors are free, such as Windows Movie Maker. That is a very limited editor which as of April, 2010, does not have multiple track capabilities. You can make a video with Windows Movie Maker, but I do suggest scouting around and finding a low cost (under $100) editor, sometimes called video editing software or movie editing software. Check the reviews and get an editor which has multiple track capabilities. By multiple track, I am speaking of at least ten but hopefully more tracks. You will want seperate tracks for narration, music, insert scenes, still pictures and graphics that will make your video much more interesting. I am pleased with Sony Vegas and Magix products. I use a PC. I am not familiar with Macs.
Your camcorder should be digital. There are many formats. There are many good cameras in the $350 range. Read the reviews. I usually read the reviews for camcorders and electronic and video software at Amazon. I do not buy the latest state of the art because they are too expensive and the state of the art is ever changing. You actually can purchase a great camera, even high definition, for under the $500 price level.
If you are doing videos for YouTube or the internet, you can usually get by fine with standard definition and high quality sound. I am a big fan of Canon cameras for their lenses. There are many brands of cameras and each has good points. Read the reviews.
A tripod is a good investment, especially if you are working alone. Having a few friends who will help with the video is a great idea if you are all compatible.
You will find that if you are inventive enough, you will be able to figure out how to make some money on the internet with your videos. It is possible to have a website with your videos which also has some advertisements which will make you money while you are auditioning. Really. No parking fees.