Hollywood Sights
Walk and See
A varied assortment of sights within walking distance of Hollywood and Highland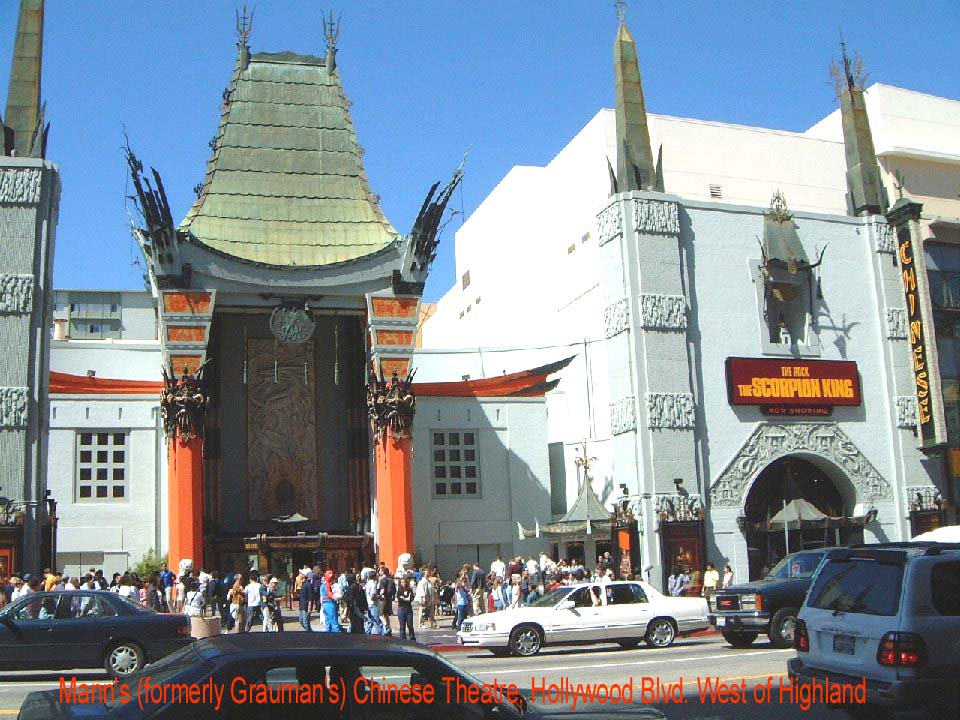 Watch out for the wet cement. One of Hollywood's most popular attractions, The Chinese Theatre. This is where many Hollywood movie premiers take place. One of the most famous theatres in the world, The Mann's Chinese Theatre. There are many characters who are standing in the courtyard each day. There is a Charlie Chaplin, a Superman, a Spiderman and probably a nice Frankenstein. There are many famous footprints including Trigger, the horse who belonged to Roy Rogers. There is an imprint of Betty Grables famous legs and Jimmy Durante's nose. R2D2 and C3PO have footprints there and oh... some human movie stars footprints too. A must see.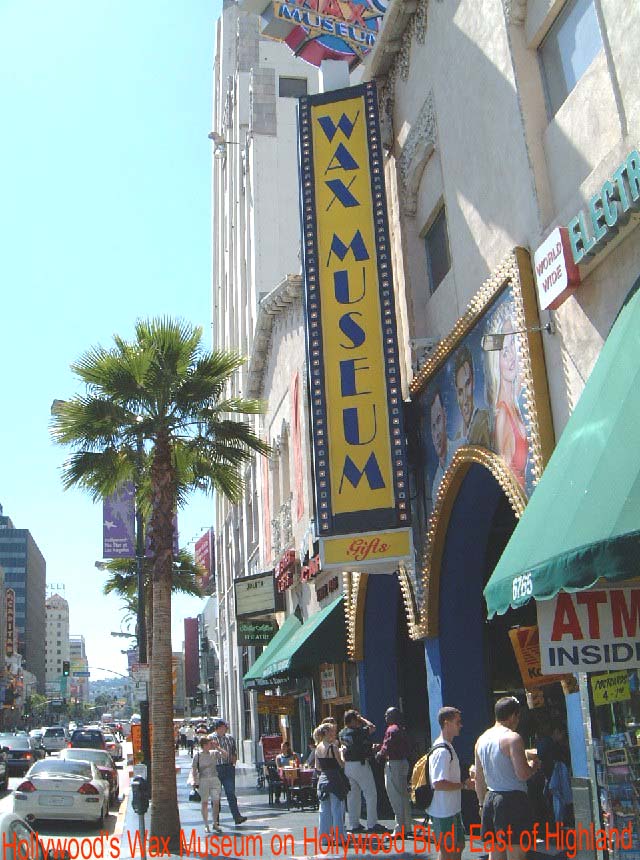 The Wax Museum is a place where a family will enjoy spending a couple of hours. There are famous movie stars who look very real. Some of the statues will appeal to the young and some to those once young. There is always some amusement going on in front of the building. If you get hungry, a McDonald's is just across the street.
Sights to see in Hollywood, Page 2
Links
Hollywood Screams (Hollywood Horror)
Fairfax, Hollywood's "Other" High School
Restaurants
Hollywood Photo Ops
Hollywood History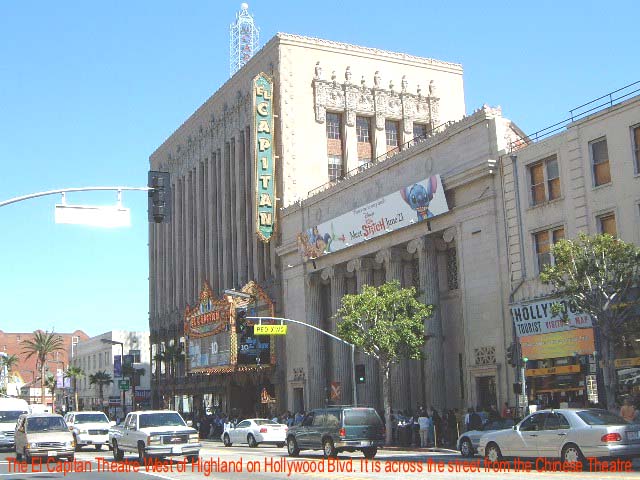 As you leave the courtyard of The Chinese Theatre, look across the street and you will see The El Capitan. This is one of Hollywood's finest examples of architecture. This area just West of Highland Ave. is filled with souvenir shops and places to eat. The Metro Rail (subway) has a station at Hollywood and Highland. If you take the Metro Rail North (The destination will read North Hollywood), you will find it will take only five minutes to get to Universal City from the Hollywood and Highland station. Tourists make up the bulk of the foot traffic in this area every day. There are specialty tour buses and limos in the area that will take you to nearby areas of interest. Also there are people who will be handing out tickets (free) for various tapings or filmings of three camera shows. If you are doing a walking tour of Tinseltown you will want to spend a few minutes examining the facade of this building. It is ornately designed and has a beautiful marque. There are of course many stars on Hollywood's Walk of Fame which are on both sides of the street in this area. The Walk of Fame extends from La Brea Ave. to Gower Street on Hollywood Blvd. It stretches from Yucca to Sunset on Vine St. There are also many stars on the sidewalk which are yet to hold names. Maybe one is for you.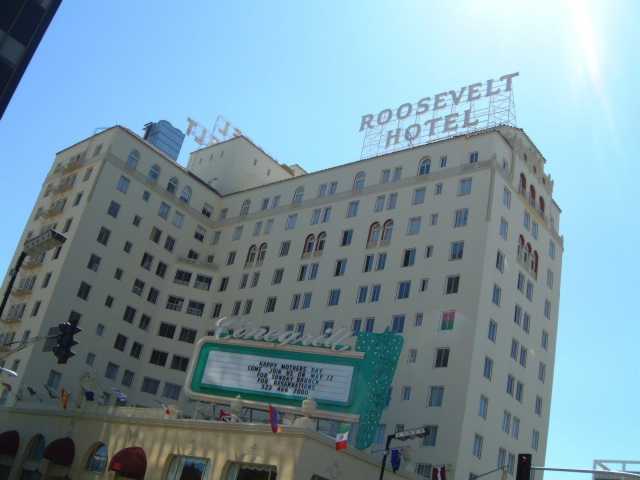 A touch of class, The Hollywood Roosevelt If you arrive at the L.A. Airport from anywhere, chances are there will be a shuttle bus that goes to Hollywood from the airport. If you arrive by train or car or bus you will be able to make a connection to Hollywood. One of the stopping places for busses coming to Hollywood from the airport is The Hollywood Roosevelt Hotel. That hotel was where the first Academy Awards were handed out. It is directly across from the Chinese Theatre. It is located on Hollywood Blvd.
More Sights to See in Hollywood
More Links
Places to Eat in Hollywood, Page 1
Sights to see in Hollywood, Page 2